Project Profile
Project Consulting Services,® Inc.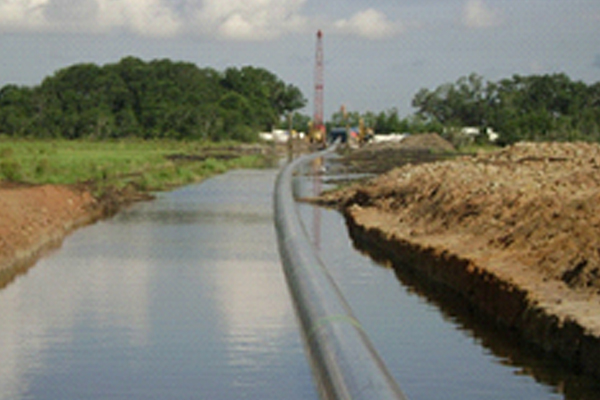 Details
Length:
23 Miles | 104.3 Miles
Creole Trail Pipeline & Sabine Pass LNG
23 Miles of 42" Natural Gas Pipeline
The Creole Trail Pipeline system originally provided transmission of natural gas from southwest Louisiana to pipeline interconnect near Carlyss, Louisiana. Within 4 years, the system was reversed and extended to supply LNG export terminal.
Expansion Project
The new pipeline facilities would consist of approximately 104.3 miles of new 42-inch and 36-inch-diameter pipeline (loop, mainline extension, and laterals) in Cameron, Calcasieu, Beauregard, Allen, and Evangeline Parishes, Louisiana, and 53,000 horsepower (hp) of additional compression at the new Mamou Compressor Station in Evangeline Parish.
Original Project
The natural gas pipeline consisted of 23 miles of 42" pipeline from the site of the Creole Trail LNG Facility to an interconnect with a transmission pipeline system near Carlyss, LA.
PCS Scope of Work
PCS provided services on both the original 23 mile construction and the reversal/expansion: leading a project management team and performed detailed engineering and design, construction management and construction inspection. PCS' proprietary C.A.T.S. ® traceability system was utilized to track the line pipe from receipt at the coating yard through construction.
More Information
Contact Us
We would appreciate any opportunity to assist you, and to connect you with the right person at PCS ® to address your needs and answer any questions.
Request Info
Call Us
1-800-643-8306