PCS® Insights
Sharing Industry Knowledge, Lessons-Learned and Published Presentations
The Managers of Change
Implementing Management of Change in the Midstream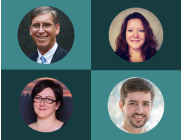 At PCS, we don't just embrace change – we manage it.
"What can cause problems?" Leon Proper, General Manager at PCS, pauses briefly before answering: "Change." A veteran of the pipeline industry, Proper goes on to emphasize that "controlling and communicating change is important for project success." There are many steps between a project's inception and its implementation, and revisions are almost inevitable. Plans remain fluid throughout the life of a project, even as the project team tries to expect the unexpected.
I had the opportunity to sit down with four PCS colleagues who have been a part of PCS' Management of Change (MOC) process. The process is designed to ensure that all appropriate groups and team members have evaluated the full impact of any proposed project change before it is approved. Each of them provided insights from their involvement in change management.
Why MOC?
The MOC process was developed to track changes in schedules, budget, routing, and requests for information. On a pipeline project, MOC is predominantly used to assess potential updates to a pipeline's route and workspaces after the baseline for a given project has been established. Project Director Jarrett Davis summarizes, saying, "The MOC process helps examine the ripple effects of a suggested change." After all, a small shift in a centerline can potentially alter a project's cost, permitting, materials, right-of-way acquisition, and other details.
MOC Administration
A designated MOC Administrator manages the details as they develop and serves as a liaison between team members, contractors, and clients. Ann Fronzuto, a Project Assistant who has served as the MOC Administrator on several projects, has found value in providing an orientation session to educate stakeholders about the details of the process. She stresses that client buy-in is crucial, because "if everyone is on board, the process goes smoothly." The details of the MOC process are established before the project kicks off and can be tailored to a client's needs and preferences. "The documents and parts of the process can be modified, but the foundation is the same," notes Danny Guigou, a Project Engineer who has also served as an MOC Administrator. "This customization is what PCS does best."
Functional Groups: The Foundation of MOC
No two projects are identical. Functional groups like Civil Survey, Right-of-Way, Environmental, Engineering, Regulatory, and GIS (to name a few) can vary between projects. Functional Group Managers (FGMs) are the points of contact for these groups and have MOC approval authority. Each FGM is responsible for evaluating any change requests and communicating the approved change action to their respective departments or team members. Additionally, the FGM ensures that those changes are implemented in their project deliverables.
And so, with the foundation of the MOC process in place, the MOC Administrator can begin to handle requests. A Requester is any functional group manager, contractor, or client who initiates an MOC request. The Requester is responsible for filling out an MOC request form and providing detailed documentation of potential impacts. Documentation includes cost and schedule impacts, maps of the MOC, and any other information needed for all functional groups to evaluate the suggested change.
GIS and MOC
For pipeline projects, maps are key to communicating the spatial aspect of a change. GIS Analysts assess and map a change's impact on key factors such as class location, high consequence areas, installation methods, workspaces, and pipe materials. Maps help project groups visualize how alterations will affect the proposed centerline, project layout, and/or nearby features. After the MOC is approved, the GIS group updates the project's spatial dataset and shares it with the functional groups.
The Value of MOC
The MOC process facilitates communication between all of the functional groups on the project, benefiting clients and the project team. Additionally, the MOC log serves as a valuable resource for post-project analyses. For example, if several MOCs originated from the client, PCS can gain insight into the preferences and approach of that particular client. If most of the MOCs resulted from routing changes, PCS can explore the causes of those changes and take them into consideration in future projects. Gains in efficiency, traceability, and communication make the MOC process a great asset for project teams.
In an ever-changing world, be sure to have a process for managing change.
---
---
Article Details
Author: Steve Padgett Vasquez
GIS Analyst
PCS® Atlanta
More Information
Contact Us
We would appreciate any opportunity to assist you, and to connect you with the right person at PCS ® to address your needs and answer any questions.
Request Info
Call Us
1-800-643-8306