PCS® Insights
Sharing Industry Knowledge, Lessons-Learned and Published Presentations
Lesser Prairie Chicken Update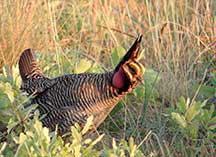 PCS' July 2016 Insights Article noted that the U.S. Fish and Wildlife Service (USFWS) removed the Lesser Prairie Chicken (LPC) from the threatened and endangered species list.
Fast-forward to September 2016. Three environmental groups have filed a joint petition requesting that a status review of the LPC be performed by the USFWS. These groups requested a range-wide listing for the LPC, an endangered emergency listing of the LPC in certain ecoregions, the establishment of three distinct populations and the designation of a critical habitat. Upon receipt of the filed petition, the USFWS has 12 months to determine whether or not the petition has merit and to determine if protection under the Endangered Species Act (ESA) is necessary.
The USFWS is currently working on the Special Status Assessment (SSA) for the LPC. USFWS has indicated the assessment will be completed in the spring of 2017. Any decision on the LPC status under the ESA will derive from results of their SSA.
Why does this matter?
If the SSA findings suggest that further protection is required, it is possible that the USFWS could publish a proposed rule for listing by mid to late 2017. Any finding for additional protection or re-listing of the LPC would affect operations in LPC habitat, particularly in the Permian Basin.
---
---
Article Details
Author: Michael Franks
Environmental Specialist
PCS®
More Information
Contact Us
We would appreciate any opportunity to assist you, and to connect you with the right person at PCS ® to address your needs and answer any questions.
Request Info
Call Us
1-800-643-8306