PCS® Insights
Sharing Industry Knowledge, Lessons-Learned and Published Presentations
5 Myths About Pipeline Inspection
Seasoned Inspector shares the reality behind some industry myths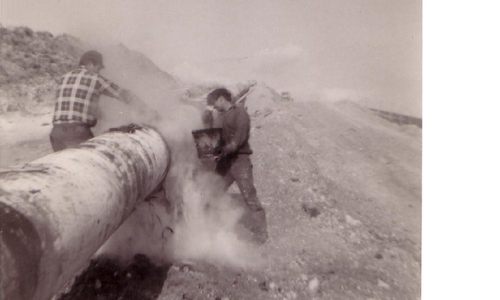 I have had the good fortune to see what good inspection can do for a project and also what happens after bad inspection of a project. Below are some "myths" I have encountered during my career and what I now believe to be the reality.
MYTH #1 - Inspectors know everything they need to know when they arrive on a project, (that's why the client hired them, after all)
REALITY
Most inspectors are pretty smart people. Some inspectors will arrive on a project with formal training such as NACE, AWS \ CWI, and CPWI certifications. Others will arrive with several years' experience overseeing a specific task such as bending, road bores, HDD's, etc… Some will even arrive as "newbies" to the inspection world wanting to learn, and we should help them as someone had to help us get started. Then there are some who are there just to draw a paycheck and don't really care, I hope this does not apply to anyone reading this.
But do certifications and experience make you ready to inspect a project? Almost, but not quite. I have been in many project closeout meetings listening to perceived inspection problems. I say perceived because I see blame on both sides – inspection and the client. Maybe some of the following "Myths" will help understand how blame goes both ways.
MYTH #2 - Inspection kick off meetings are not necessary
REALITY
Inspector kick off meetings, orientations, or training (whatever a company calls the meeting) are a very important part of a project. Issues such as reporting structure, project numbers, construction specifications, environmental and cultural resources, problem land owners, line list, permits, etc. must be discussed before going in the field. An inspector should never go in the field unprepared to support the client and the reputation of themselves and the inspection company they represent.
Inspection Kickoff Meeting
MYTH #3 – Not all inspectors need to be trained on environmental permits.
REALITY
Let a contractor dig up a Gopher Tortoise in the south or fall a Shag Bark Hickory tree during the Indiana Bat mating season. Then let the FERC inspector find out that neither the inspector nor the contractor had environmental training. Enough said.
Permit allowed breaking of beaver dam
MYTH #4 – My daily report is not read by anyone and is not important
REALITY
Daily reports are very, very important and people do read them. Daily reports are the client's defense against contractor claims that may not be correct. The contractor has to keep count of their daily progress, unit pay items used, extras, etc.. Inspector's daily report either verifies the contractor's counts and progress or notifies the chief inspector and the client you believe there may be a discrepancy.
Inspector's daily reports can alert the chief inspector and the client of a possible trend happening that could lead to dire consequences if not corrected.
For example: you turn in that the daily the road bore crew is not digging their excavations to OSHA standards. You have warned them and brought it to their attention and you also verify the safety inspector has documented this and addressed this but it keeps reoccurring. Then one day they have a cave-in that buries someone and they die. Your daily report can be used during the investigation to aid in determining how and why the accident occurred.
Your daily report is very important and should be as accurate as possible. Times, dates, places, etc. are all very important creating an accurate and useful daily report.
MYTH # 5 – Mats are cheap – no need in counting – use all you want
REALITY
MATS ARE NOT CHEAP! A good cost for mats today is around $125 to $150 A FOOT! Long projects in the south or in other wet areas of the country will use thousands of mats. A digging mat is 4 feet wide and cost from $500 to $600 a mat. Mats are used predominantly in wetlands. The United States Corps of Engineers regulates wetlands in the US and they have some specific rules protecting our wetlands. For pipelines one of the ways they protect our wetlands is by protecting them from rutting and mixing top soil with sub soil. Mats help prevent this from happening.
Mats must be counted! Consider this: if an inspector is assigned to count mats and compares mat count with the contractors each day and finds one mat over a day miscounted, it will pay his salary. If he finds two or more mats over a day miscounted the inspector is now saving the client money and helping the project manager stay within their budget.
Example – a one mile long wetland can cost from $660,000 to $792,000 to mat. Saturated wetlands may cost even more if the mats sink and two or three thick is required. In other words, mats may and do cost millions of dollars on a long project.
How else might mats be used? They may be used crossing foreign utilities, bridging across streams or other small water bodies, road approaches, HDD staging areas, etc.
Mats must be counted and controlled. Otherwise, the contractor could cost a client lots of money.
Mats on the ROW
In today's world there is just too much potential liability to signing your name reporting something that you are not sure was done properly. Do not be afraid to ask for what you need to inspect the project. Your name and reputation are on the line each and every time you sign a report.
---
Buddy worked for a natural gas company from 1970 until 2005 when he retired and went to work for Project Consulting Company as a Project Manager. While with the gas company he worked as a maintenance person, clerk, welder, construction inspection supervisor, field project manager, and was a member of the Pipeline Research Committee Welding Supervisory Committee. In 2010 he was asked to become Manager of the PCS Inspection department. Buddy still keeps up-to-date by attending industry meetings and attends API meetings when possible.
---
Article Details
Author: Raymond (Buddy) Belcher, Jr.
Manager
PCS® PCS® Metairie
More Information
Contact Us
We would appreciate any opportunity to assist you, and to connect you with the right person at PCS ® to address your needs and answer any questions.
Request Info
Call Us
1-800-643-8306